West Wickham (Wickham West)
OS Grid Reference: TQ3865
The 1841 population was 651

"West Wickham is a large parish and village, pleasantly situated on the borders of Surrey, 3.5 miles south-west from Bromley, and 4 south-east from Croydon, in the Hundred of Ruxley, lathe of Sutton at Hone, Union and County Court district of Bromley. The parish contained in 1851, 732 inhabitants and 2,645 acres of land. The church, dedicated to St John the Baptist, is an ancient building, consisting of a nave, chancel and south porch, with square embattled tower, and is in excellent repair. The living is a rectory, value 460, in the diocese of Canterbury, and patronage of Sir Charles Francis Farnaby, Bart., who is also Lord of the manor. The Rev. John Thomas Austen, M.A., is the incumbent. Here is a National school, supported by voluntary contributions, also a parochial lending library, and a charity of 3 annual value left by Lady Slade for apprenticing poor decayed tradesmen's sons, and payable .."  1852?

Administrative Units
West Wickham fell within the Hundred of Ruxley. Its 19th century Registration District & Poor Law Union was Bromley.
Probate Jurisdiction was Rochester to 1845, PCC 1846-57.
See NWKFHS publications West Kent Sources and School Records for further information.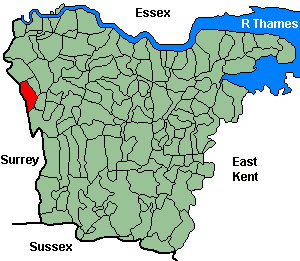 Census Publications
1851 Name Index and Page Images published on CD-Rom as part of CD7 (Bromley Registration District).
1851 Name Index (only) published on microfiche as part of Volume I (Bromley Registration District).
1891 Transcript published on CD-Rom as part of CD2 (Bromley Registration District).
For ordering details see Census CD-ROMs on the Publication List page.
Church and Chapels (pre 1910)
Church of England cont.
St Augustine: Mission church, High St. Used 1869-1933, closed. No information on registers.
Independent/Congregational
Congregational: North Rd. (1887-1929 closed). No information on registers.