Society Library
Opening hours are every Wednesday, midday-4pm by appointment.
Please note: at present, to prevent overcrowding users must, please, phone our Librarian on 01322 384836 in advance to check there is space for the time period you would like to come.
Refreshments are available, there are toilets in the building, and as we're on the ground floor wheelchair access is no problem.

We have our own room, separate from the main library, where our complete collection of books and other reference material is now available on open shelves. (Currently, March 2020, there are 5801 items on shelves plus guides and maps).
The microfiche, microfilms, data CD's and old documents are in store on site and are available on request.
The set of tapes from the Tape Library are no longer available on site but require prior notice request for access to them.
Much of the material in the main catalogue is available for loan to members. The other material is only available for consultation in the Library.
We have computers with internet access, this includes Ancestry, FindmyPast and other on-line genealogical databases, see below for the full listing.
With a valid KCC reader's card (and PIN number) you can bring along your own laptop and access the internet and use the listed databases via the library's Wi-Fi link.
Workshops are regularly held at the library plus Discussion Group and Computer help group.
Non-members are welcome to visit.
You can contact the library by emailing library@nwkfhs.org.uk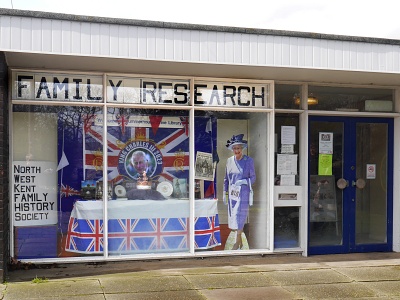 Coronation Display (photo courtesy of David Turner)
Library Online Resources
Ancestry
British History Online
British Newspaper Archive
British Newspapers
Credo Reference
Dictionary of National Biography
Eastern Gazette
FindMyPast
Library Online Resources cont.
Gale News Vault
Illustrated London News
John Johnson Collection
Times Digital Archive (1785 - 2006)
UK Press Online - South
Who Online
Who's Who with Who Was
Workshops
Workshops are run by arrangement to teach different aspects of family history. The subjects of these workshops are as requested by members to aid their research. The workshops are generally limited to ten members per workshop. Where additional members wish to attend a workshop it is re-run to cater for all members interested in the topic. See the Workshops page for details.

Hilary Waters
The Society Librarian
Travel Details
There is no car park but parking is available in the road. Bus services are the 429 and the B12. With the B12 (Joydens Wood Post Office), the stop you use depends on the time of day - after 12 noon it's on the opposite side of the road - see "Route Record" at the bottom of the B12 website page.
Official Opening
The library moved to its current location in April 2009 and was formally opened on 24 June 2009. It was previously at Hextable Heritage Centre for eight years.