West Kent Record Office Coverage
The map below shows the approximate archival collecting area for each main record office that covers West Kent (pre-1889 boundaries). It is based on the location of the older original registers of each ancient parish, in other words those registers that are not in current use. Hence the map shows the collecting areas for these repositories in their capacity as diocesan record offices.
There are some exceptions:
In respect of other classes of records (non parish registers), there are many overlaps and exceptions.
For various historical reasons the registers of some parishes are not in the record office you might expect, such as those that reside in the LMA, and those of two parishes (Lewisham and Deptford St Paul) that are split between two repositories.
A couple of parishes still hold the whole run of their own registers.
If you want to see a parish register, most record offices will ask you to view it on microfilm or on-line. But since these media are more widely available it may not be necessary to visit the relevant record office at all. Other parish chest material will normally be in the same location as the registers and may not be available on microfilm.
There are other local history libraries in west Kent that hold some archival material, and though they don't hold original parish registers they may have microfilm or access to on-line coverage.
The table below the map provides links to the record office websites and their archives catalogues.
Record Office Coverage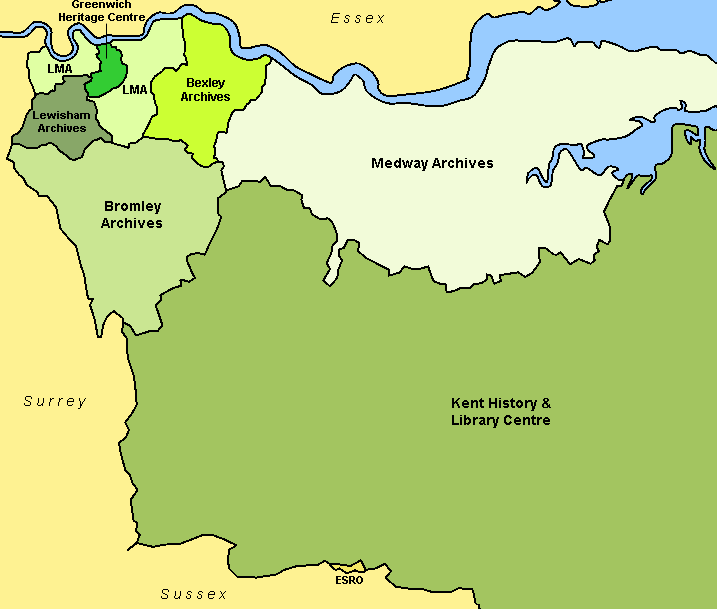 | | | |
| --- | --- | --- |
| Key | Record Office | Notes |
| | Bexley Local Studies and Archives Centre | Located at Bexleyheath Central Library, Townley Road, Bexleyheath DA6 7HJ. Erith, Crayford, Bexley, Foots Cray and North Cray. A move by the council in 2013 to close the search room was defeated after public pressure and the records remain at Bexleyheath. |
| | Bromley Local Studies Library & Archives | Located on the 2nd floor of Bromley Central Library, High St, Bromley BR1 1EX. Beckenham, Bromley, Chelsfield, Chislehurst, Cudham, Downe, Farnborough, Hayes, Keston, Orpington, St Mary Cray, St Pauls Cray, West Wickham. Bromley hold original registers of these parishes, apart from those of Chelsfield and West Wickham which have not been deposited and remain in their parishes. |
| | Greenwich Heritage Centre | Located at Artillery Square, Royal Arsenal, Woolwich, London SE18 4DX. Greenwich St Alfege. Its only ancient parish coverage is Charlton (St Luke), but it also holds registers of the Victorian creation Kidbrooke (St James). |
| | Kent History & Library Centre | Located at James Whatman Way, Maidstone, Kent ME14 1LQ. It was opened in April 2012 in a purpose-built centre, as a successor to the Centre for Kentish Studies which had been at County Hall. It formerly covered all the parishes in west Kent outside the Greater London boroughs, then in 1990/1 Medway Archives was established and acquired the parish registers for north Kent. Canterbury Cathedral Archives. |
| | Lewisham Local History & Archives Centre | Located at Lewisham Library, 199-201 Lewisham High Street, London SE13 6LG. Lee St Margaret and most of the surviving Lewisham St Mary registers though for historical reasons some of the later Lewisham registers are at London Metropolitan Archives (see below). Similarly, it also holds some of the burial registers of Deptford St Paul. |
| | London Metropolitan Archives (LMA) | Located at 40 Northampton Road, Clerkenwell, London EC1R 0HB. Deptford, Greenwich, Woolwich, Plumstead and Eltham. But see above (Lewisham Archives) regarding split holdings for the parishes of Lewisham and Deptford St Paul. The overall coverage of LMA extends across much of Greater London. |
| | Medway Archives Office | Located at the Medway Archives Centre, 32 Bryant Road Strood, Rochester, Kent ME2 3EP, Medway Archives was established in April 1990. Shortly after this the original registers of parishes in the Archdeaconry of Rochester were transferred here from Maidstone. It covers an area from Dartford in the west to the Medway towns and the Hoo peninsula in the east. Medway Ancestors was launched, a project to publish images of the original parish registers in its custody on CityArk. |
| | East Sussex Record Office (ESRO) | Frant only, see ESRO website. |