Tonbridge
OS Grid Reference: TQ5946
The 1841 population was 12,530
Administrative Units
Tonbridge fell within the Hundred of Tonbridge. Its 19th century Registration District & Poor Law Union was Tonbridge.
Probate Jurisdiction was Rochester to 1845, PCC 1846-57.
Tonbridge was a very large parish which included the settlements of Tunbridge Wells, Southborough and Hildenborough. These were not given separate parochial status until 1833, 1847 and 1844 respectively.
See NWKFHS publications West Kent Sources and School Records for further information.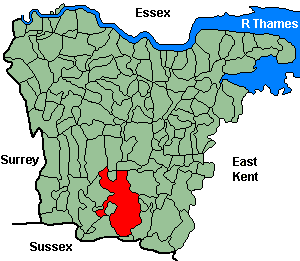 Church and Chapels (pre 1910)