St. Paul's Cray (Cray, St. Paul's)
OS Grid Reference: TQ4669
The 1841 population was 564

"The Crays are four highly respectable villages and parishes cintiguous to each other, situated in the lathe of Sutton-at-Hone, Hundred of Ruxley, and Union of Bromley, on the banks of the river Cray, in a beautiful and diversified country, interspersed with numerous elegant seats and noble mansions. On the River Cray are several paper mills, which employ a number of persons of both sexes. Each of the Crays has its parish church, but there is not anything remarkable about either of these edifices. ... St Paul's Cray is a famous place for the pea crop. " 1852 directory.

Administrative Units
St. Paul's Cray fell within the Hundred of Ruxley. Its 19th century Registration District & Poor Law Union was Bromley.
Probate Jurisdiction was Shoreham to 1845, PCC 1846-57.
See NWKFHS publications West Kent Sources and School Records for further information.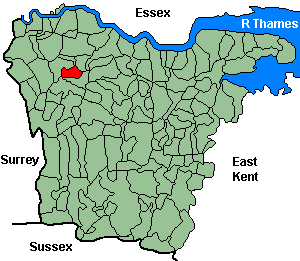 Census Publications
1851 Name Index and Page Images published on CD-Rom as part of CD7 (Bromley Registration District).
1851 Name Index (only) published on microfiche as part of Volume I (Bromley Registration District).
1891 Transcript published on CD-Rom as part of CD2 (Bromley Registration District).

For ordering details see Census CD-ROMs on the Publication List page.