Sevenoaks
OS Grid Reference: TQ5255
The 1841 population was 5,061
Administrative Units
Sevenoaks fell within the Hundred of Codsheath. Its 19th century Registration District & Poor Law Union was Sevenoaks.
Probate Jurisdiction was Shoreham to 1845, PCC 1846-57.
Sevenoaks included the settlements of Riverhead, Weald and Kippington.
See NWKFHS publications West Kent Sources and School Records for further information.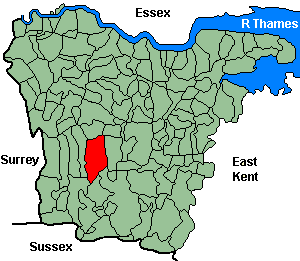 Census Publications
1851 Name Index (only) published on microfiche as part of Volume VI (Sevenoaks Registration DistrictI.

For ordering details see Census CD-ROMs on the Publication List page.
Church and Chapels (pre 1910)
Roman Catholic
St Thomas of Canterbury: formerly Holy Trinity, Granville Rd. Built 1896, incorporating earlier chapel (Holy Trinity, 1880). Original registers from 1889.
Wesleyan/Methodist cont.
Wesleyan: St John (1802). Original registers from 1796.
Methodist: Original registers from 1814.