Plumstead
OS Grid Reference: TQ4478
The 1841 population was 2,816

For project purposes this parish is also covered by Woolwich & District FHS.
Administrative Units
Plumstead fell within the Hundred of Little & Lessness. Its 19th century Registration District & Poor Law Union was Lewisham -1868, Woolwich 1868-.
Probate Jurisdiction was Rochester to 1845, PCC 1846-57.
Plumstead included parts of Shooters Hill and Abbey Wood.
See NWKFHS publications West Kent Sources and School Records for further information.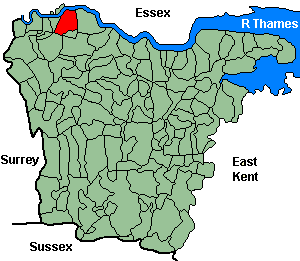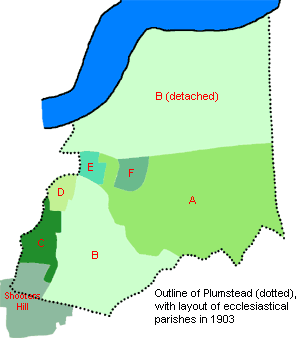 Census Publications
1851 Name Index (only) published on microfiche as part of Volume IV (Lewisham Registration District).

For ordering details see Census CD-ROMs on the Publication List page.
Church and Chapels (pre 1910)
Church of England cont.
St Margaret: Vicarage Rd. (Map ref B). Church built 1858-9, demolished 1974; parish created from St Nicholas. Original registers from 1859.
All Saints: Shooters Hill, Ripon Rd. (Map ref C). Church built 1873-5, bombed 1944, rebuilt 1956; parish created 1876 from Plumstead. Original registers from 1876.
St John the Baptist: Earl Rise/Robert St. (Map ref E). Church built 1883-4, destroyed 1941, demolished 1959; parish created 1885 from Plumstead St Nicholas, united 1953 with St James. Original registers from1882.
St Paul: Hector St, (Map ref F). Church built 1901, became St Patrick R/Catholic 1968; parish created 1902 (from St Nicholas?). Original registers from1901.
St Mark: Plumstead Common, Old Mill Rd. Church built 1901, demolished 1972; parish created 1903 from St Nicholas & St Margaret (too late to be shown on map), abolished 1968. Original registers from 1897.
Roman Catholic
St Patrick: Griffin Rd. Church built 1893, converted to school hall 1970; succeeded by redundant St Pauls Cof E church (Hector St). Original registers from 1893.
Baptist
Baptist: Conduit Rd. (1865-1969). No information on registers.
Baptist: Plumstead Tabernacle, Maxey Rd. (1861-1930 demolished). No information on registers.
Baptist: Union Church, Park Rd. (1885-1954). No information on registers.