East Malling (Malling, East)
OS Grid Reference: TQ7057
The 1841 population was 1,578
Administrative Units
East Malling fell within the Hundred of Larkfield. Its 19th century Registration District & Poor Law Union was Malling.
Probate Jurisdiction was Shoreham to 1845, PCC 1846-57.
Included the hamlet New Hythe / Larkfield.
See NWKFHS publications West Kent Sources and School Records for further information.
For project purposes this parish covered by Kent FHS.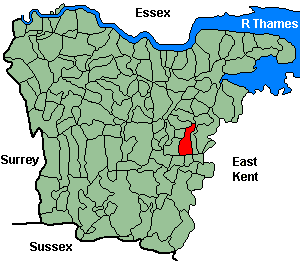 Church and Chapels (pre 1910)
Wesleyan/Methodist
Wesleyan: No registers, general records only.