Ifield
OS Grid Reference: TQ6469
The 1841 population was 172
Administrative Units
Ifield fell within the Hundred of Toltingtrough. Its 19th century Registration District & Poor Law Union was North Aylesford 1835-84, Strood 1884-1930.
Probate Jurisdiction was Shoreham to 1845, PCC 1846-57.
Ifield was also known as Singlewell.
See NWKFHS publications West Kent Sources and School Records for further information.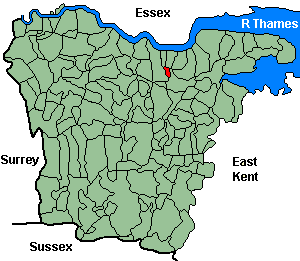 Church and Chapels (pre 1910)
Ifield, St Margaret
Church of England - Ancient Parish Church.

Original Registers

These date from 1751.

Transcript published by Rob Cottrell (Microfiche Ref C48). See Thames & Medway Riverside Parish Register Publications.

Images published by NWKFHS (CD-Rom Ref. OR29). See Parish Register Publications.