Gravesend
OS Grid Reference: TQ6574
The 1841 population was 6,414
Administrative Units
Gravesend fell within the Hundred of Toltingtrough. Its 19th century Registration District & Poor Law Union was Gravesend & Milton.
Probate Jurisdiction was Rochester.
The town of Gravesend extended into Milton parish, which was united to it in 1915.
Denton parish was also incorporated into Gravesend in 1935.
See NWKFHS publications West Kent Sources and School Records for further information.
For project purposes this parish is covered by Kent FHS.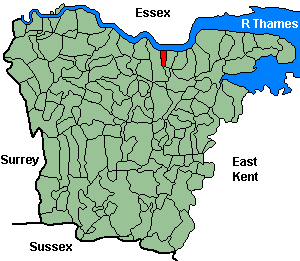 Church and Chapels (pre 1910)
Independent/Congregational
Independent: Princes St. Original registers from 1762.
Congregational: Princes St. (1689, 1717-1953, demolished 1961). Original registers from 1837.
Wesleyan/Methodist
Methodist: Milton St. (1771). No information on registers.
Primitive Methodist: Darnley St. Original registers from 1863.
Other
Salvation Army: New Rd. Built 1883, demolished 1968. No information on registers.