East Wickham (Wickham East)
OS Grid Reference: TQ4677
The 1841 population was 555
Administrative Units
East Wickham fell within the Hundred of Little & Lessness. Its 19th century Registration District & Poor Law Union was Dartford.
Probate Jurisdiction was Rochester to 1845, PCC 1846-57.
A chapelry in Plumstead parish, which acquired separate civil identity early and became a separate ecclesiastical parish in 1854.
Included the part of Welling north of Watling St.
See NWKFHS publications West Kent Sources and School Records for further information.
For project purposes this parish is also covered by Woolwich & District FHS.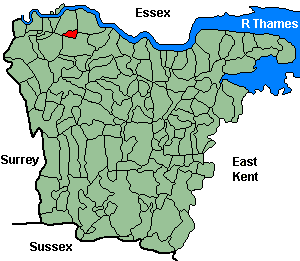 Census Publications
1851 Name Index and Page Images published on CD-Rom as part of CD8 (dartford Registration District).
1851 Name Index (only) published on microfiche as part of Volume V (Dartford Registration District).
For ordering details see Census CD-ROMs on the Publication List page.
Church and Chapels (pre 1910)
East Wickham, St Michael
Church of England - Ancient Parish Church

Originally a chapelry in Plumstead, became a parish in 1854, Medieval church (see photo) now Greek Orthodox, the modern St Michaels church built close by in 1932.

Original Registers

These date from 1730.

Transcript published by Rob Cottrell (Microfiche Ref. C17) See Thames & Medway Riverside Parish Register Publications.