Cuxton
OS Grid Reference: TQ7066
The 1841 population was 376

"Cuxton is a parish and village 3 miles south-west of Rochester, on the banks of the navigable Medway, in the lathe of Aylesford, Shamwell Hundred, and North Aylesford Union, West Kent. The population in 1851 was 374, and the number of acres 1,686 of land and 70 of water. The living is a rectory, in the patronage of the Bishop of Rochester. The church, dedicated to St Mchael, is ancient. Here is a National school." 1852?
Administrative Units
Cuxton fell within the Hundred of Shamwell. Its 19th century Registration District & Poor Law Union was North Aylesford.
Probate Jurisdiction was Rochester.
See NWKFHS publications West Kent Sources and School Records for further information.
For project purposes this parish is covered by Kent FHS.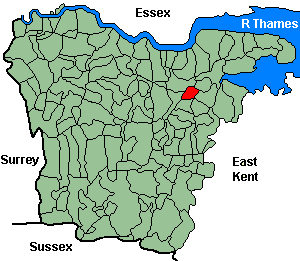 Church and Chapels (pre 1910)
Cuxton, St Michael
Ancient Parish Church
Original Registers
These date from 1560.

St Michael - Mar 1998