Cudham
OS Grid Reference: TQ4459
The 1841 population was 776

"Cudham is an extensive parish and widely-scattered village, 7 miles north-west from Seven Oaks, 8 from Bromly, and 3.5 south-west from Farnborough, in Ruxley Hundred, lathe of Sutton-at-Hone, and Union and County court district of Bromley, west Kent, situated west of the high road from London to Seven Oaks. The rea is 5,869 acrea. Here is a wood 2 miles long. The soil clayey, with great quantity of flint, but very fertile; and the population, in 1851, was 897. The church of St Peter and St Paul is an old building of flint and brick, with a steeple rising from the centre. The great and small titheshave been commuted for a rent-charge of 995 per annum. ... Charles Ward, Esq., is the lay rector; the Rev. Henry Sampson is the vicar, and the Rev. Joseph Thompson curate. There is a chapel for the Wesleyans, and National schools, erected in 1851, which are supported by voluntary contributions. Thomas Lightfoot, Esq., is lord of the manor of Cudham, and John Christy, Esq., is lord of the manor of Aperfield within the parish." 1852?
Administrative Units
Cudham fell within the Hundred of Ruxley. Its 19th century Registration District & Poor Law Union was Bromley.
Probate Jurisdiction was Rochester to 1845, PCC 1846-57.
See NWKFHS publications West Kent Sources and School Records for further information.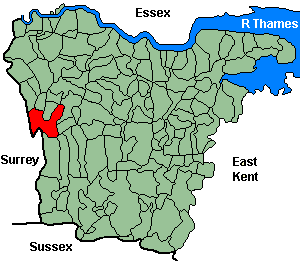 Census Publications
1851 Name Index and Page Images published on CD-Rom as part of CD7 (Bromley Registration District).
1851 Name Index (only) published on microfiche as part of Volume I (Bromley Registration District).
1891 Transcript published on CD-Rom as part of CD2 (Bromley Registration District).

For ordering details see Census CD-ROMs on the Publication List page.
Church and Chapels (pre 1910)
Cudham, St Peter & St Paul
Ancient Parish Church
Original Registers
These date from 1653.
St Peter & St Paul - Oct 1998