Foots Cray (Cray, Foots)
OS Grid Reference: TQ4770
The 1841 population was 358

"The Crays are four highly respectable villages and parishes contiguous to each other, situated in the lathe of Sutton-at-Hone, Hundred of Ruxley, and Union of Bromley, on the banks of the river Cray, in a beautiful and diversified country, interspersed with numerous elegant seats and noble mansions. ... Foots Cray, which was formerly styled Fotes Cray; it lies on the direct road from London to Maidstone, distant from the former 12 miles, and 5 from Bromley. At Foots Cray there are National and British schools, and a Baptist chapel. On the River Cray are several paper mills, which employ a number of persons of both sexes. Each of the Crays has its parish church, but there is not anything remarkable about either of these edifices."  1852 directory.

Administrative Units
Foots Cray fell within the Hundred of Ruxley. Its 19th century Registration District & Poor Law Union was Bromley.
Probate Jurisdiction was Rochester to 1845, PCC 1846-57.
Foots Cray also known as Footscray. The civil parish was renamed Sidcup in 1925.
See NWKFHS publications West Kent Sources and School Records for further information.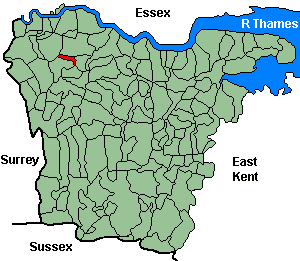 Census Publications
1851 Name Index and Page Images published on CD-Rom as part of CD7 (Bromley Registration District).
1851 Name Index (only) published on microfiche as part of Volume I (Bromley Registration District).
1891 Transcript published on CD-Rom as part of CD2 (Bromley Registration District).

For ordering details see Census CD-ROMs on the Publication List page.
Church and Chapels (pre 1910)
Church of England cont.
Sidcup, Emmanuel: Mission church, Station Rd. Built 1887-8. No information on registers.
Baptist
Baptist: Sidcup Hill. Built 1840, extended 1885. No information on registers.