Cowden
OS Grid Reference: TQ4640
The 1841 population was 695

"A village, 5 miles from Edenbridge station, 6 from East Grinstead, and 9 west from Tunbridge Wells, lies on the confines of the county, adjoining Sussex, from which it is parted by a stream of the Medway. It is in the Hundreds of Somerden and Westerham, lathe of Sutton at Hone, and Union of Sevenoaks, containing 3,232 acres, and a population of 695. It is assessed to the land tax at œ163 14s; assessed taxes, 127 18s 9d; ad Property Tax, 2,684 10s 8d. The church, to the east of the village, is a small ancient building, dedicated to St Mary Magdalene, with a handsome spire. ... The living is a rectory, values in the Kiong's Books 9 18s 11d; net income 347; patron and incumbent the Rev Thomas Harvey, M.A. A pleasure fair is held on the 2nd of August. " 1852 directory.
Administrative Units
Cowden fell within the Hundred of Somerden. Its 19th century Registration District & Poor Law Union was Sevenoaks.
Probate Jurisdiction was Rochester to 1845, PCC 1846-57.
See NWKFHS publications West Kent Sources and School Records for further information.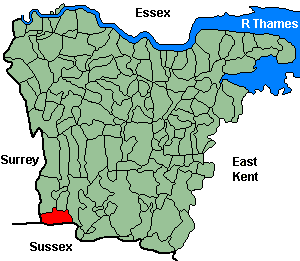 Census Publications
1851 Name Index (only) published on microfiche as part of Volume VI (Sevenoaks Registration District).

For ordering details see Census CD-ROMs on the Publication List page.
Church and Chapels (pre 1910)
Cowden, St Mary Magdalen
Ancient Parish Church
Original Registers
These date from 1566.
St Mary Magdalen - Aug 1997