Cobham
OS Grid Reference: TQ6768
The 1841 population was 758

"Cobham in north Aylesford Union, and Shamwell Hundred, lathe of Aylesford, is about 5 miles from Rochester and Gravesend, and famous for its park, which is the great attraction of the visitors of the neighbourhood. The park is about 7 miles in circumference, well stocked with deer, and possesses beautiful hills and dales, superbly ornameneted witth timber of every variety and description. Cobham Hall, the seat of the Right Hon. the Earl of Darnley, contains a rich picture gallery, and also the unique gilt hall, so much thought of by strangers, to whom the hall is open every Friday. In the park is the Mausoleum, built in the year 1783, by one of the present Lord Darnley's ancestors. ... The church of Cobham holds out a treat to the antiquarian, and has some fine brasses of the Cobhams, one of 1354. The living is a vicarage, in the gift of the earl of Darnley , value £454 per annum; the Rev. John Stokes M.A. is the incumbent. The College, so called, contains 20 almshouses for the reception of poor people from various parishes, who have a stipend allowed to each of them of £1 per month. .... Here is a free school for boys and girls, under the patronage of the Earl of Darnley." 1852 directory.
Administrative Units
Cobham fell within the Hundred of Shamwell. Its 19th century Registration District & Poor Law Union was North Aylesford.
Probate Jurisdiction was Rochester.
See NWKFHS publications West Kent Sources and School Records for further information.
For project purposes this parish is covered by Kent FHS.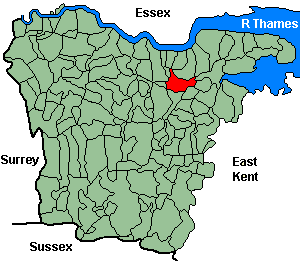 Church and Chapels (pre 1910)
Cobham, St Mary Magdalene
Ancient Parish Church
Original Registers

These date from 1655.
Transcript published by Rob Cottrell (Microfiche Ref. C70). See Thames & Medway Riverside Parish Register Publications.
St Mary Magdalene - Apr 2007