Cliffe-at-Hoo
OS Grid Reference: TQ7376
The 1841 population was 842

"Cliffe near Rochester, sometines called Cliffe at Hoo, is a parish in the lathe of Aylesford, Shamwell Hundred, and north Aylesford Union, west Kent. It lies at the end of a long chalk range, forming a steep cliff,, and commanding a fine view, and at the edge of extensive marshes, bordering on the Thames. It is 6 miles north of Rochester, and 8 east of Gravesend, and 3 from the Higham station of the North Kent Railway. .... Cliffe was anciently an important place, and rector, till lately, was surrogate, and held a court after Easter to administer the oath to the churchwardens, to grant marriage licences, probates of wills and letters of administration. The church, dedicated to St Helen, is on he brow of an eminence, and is a handsome cruciform building, with an embattled tower, containing a clock and 5 bells, at the west end; the interior contains some painted glass, a piscina, three sedilia or stone seats, and some ancient tombs.. " 1852 directory.
Administrative Units
Cliffe-at-Hoo fell within the Hundred of Shamwell. Its 19th century Registration District & Poor Law Union was North Aylesford.
Probate Jurisdiction was Pec of Cliffe -1845, PCC 1846-57.
United with Cooling parish in 1958.
See NWKFHS publications West Kent Sources and School Records for further information.
For project purposes this parish is covered by Kent FHS.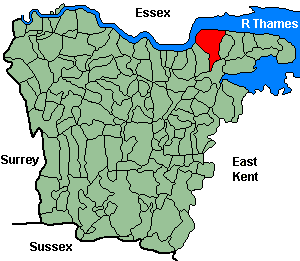 Church and Chapels (pre 1910)
Cliffe at Hoo, St Helen
Ancient Parish Church
Original Registers
These date from 1558.
St Helen - Apr 1998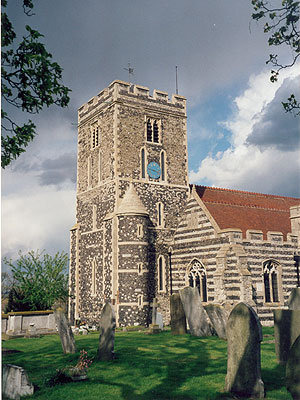 Wesleyan/Methodist
Methodist: Chapel. (early 19th cent, rebuilt 1901, now redundant). No information on registers.