Chiddingstone
OS Grid Reference: TQ4945
The 1841 population was 1,405

"Chiddingstone is a village 4 miles south-west from Edenbridge, and 7 south from Seven Oaks, and 1½ north-east from Penshurst station, which is, however, in Chiddingstone parish, lies in the Weald, on the river Eden, and in the Union of Seven Oaks, and Hundred of Somerden. .... The church, which is dedicated to St. Mary, is a large ancient and handsome buiding consisting of three aisles and three chancels, with a handsome tower and steeple at the west end, and peal of 8 bells, and contains some handsome monuments to the Streatfeidl family. The tower is considered one of the finest in the county. .... There are National and Infant schools. High Street House, the seat of Henry Streatfeidl, Esq., is a spacious and handsome mansion in the castellated style. Edmund Wakefield Meade Waldo, Esq., has also a fine seat here, called Stonewall Park." 1852 directory.
Administrative Units
Chiddingstone fell within the Hundred of Somerden. Its 19th century Registration District & Poor Law Union was Sevenoaks.
Probate Jurisdiction was Shoreham to 1845, PCC 1846-57.
Chiddingstone included the settlements of Chiddingstone Causeway and Bough Beech.
See NWKFHS publications West Kent Sources and School Records for further information.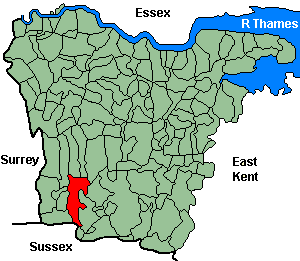 Census Publications
1851 Name Index (only) published on microfiche as part of Volume VI (Sevenoaks Registration District).

For ordering details see Census CD-ROMs on the Publication List page.
Church and Chapels (pre 1910)
Chiddingstone, St Mary
Ancient Parish Church

Original Registers
These date from 1631.
St Mary - Aug 1997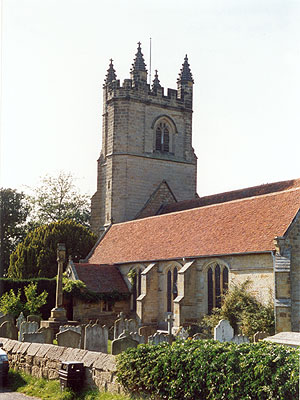 Chiddingstone Causeway, St Luke
Church built 1897-8; parish created 1906 from Chiddingstone St Luke, Leigh & Penshurst.
Original Registers
These date from 1899.
St Mary - Aug 2000