Charlton
OS Grid Reference: TQ4178
The 1841 population was 2,655

"Charlton is a suburban district of London, in Blackheath Hundred, Lewisham Metropolitan Union, the lathe of Sutton-at-Hone, and the jurisdiction of the Central Criminal Court and metropolitan police. It lies intermediate between Greenwich and Woolwich, about a mile and a half from each, and overlooking the Thames. Blackheath is partly in this parish..... It is pleasantly situated , and contains many picturesque villas and residences in an open neighbourhood, with Greenwich Park, Woolwich common, and Blackheath in the neighbourhood; the Thames in sight, and Shooter's, 446 feet high, rising at a short distance; from its vicinity to Woolwich it is much frequented on occasions of reviews and military spectacles. Its population is partly agricultural. Charlton House, the seat of Sit Thomas Maryon Wilson, Bart., is a fine old mansion well worthy of notice." 1852 directory.
Administrative Units
Charlton fell within the Hundred of Blackheath. Its 19th century Registration District & Poor Law Union was Lewisham -1868, Woolwich 1868-.
Probate Jurisdiction was Rochester to 1845, London 1846-57.
See NWKFHS publications West Kent Sources and School Records for further information.
For project purposes this parish is also covered by Woolwich & District FHS.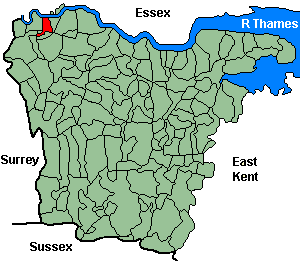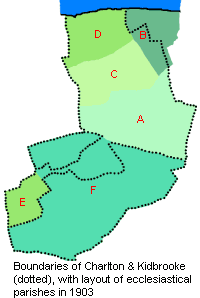 Census Publications
1851 Name Index (only) published on microfiche as part of Volume IV (Lewisham Registration District).

For ordering details see Census CD-ROMs on the Publication List page.
Church and Chapels (pre 1910)
Church of England cont.
Old Charlton, St Thomas: Maryon Rd. (map ref B) Church built 1849-50; parish created 1845 from Charlton St Luke & Woolwich St. Mary. Original registers from 1850.
St Paul: Fairfield Grove. (map ref C) Church built 1866-7, demolished 1940; parish created 1862 from Charlton St Luke, reunited 1908. Original registers from 1862.
Holy Trinity: Woolwich Rd New Charlton. (map ref D) Church built 1893-4, demolished 1975; parish created 1886 from Charlton St Paul. Original registers from 1886.
Charlton House Chapel: Original registers from 1616.
Roman Catholic
Our Lady of Grace: Charlton Rd. Original registers from 1903.
Baptist
Baptist:Blackheath & Charlton, Shooters Hill Rd. Original registers from 1869.
Independent/Congregational
Independent: Blundells Mission. (1893-? demolished). No information on registers.
Independent: Good Shepherd Mission. (1891-?). No information on registers.
Independent: London City Mission. (1896-1970 demolished). No information on registers.
Congregational: Ruffell's Mission. (1895-1904). No information on registers.
Wesleyan/Methodist
Wesleyan: Charlton Vale. Original registers from 1889.
Other
Other: Morden College Chapel, Blackheath. Original registers from 1702.