Brasted
OS Grid Reference: TQ4755
The 1841 population was 1,130

"Brasted, or Brastead, is a parish, 4½ miles west from Seven Oaks, 2½ east from Westerham, in Codsheath Hundred, and Seven Oaks Union, lathe of Sutton-at-Hone, and in the valley of the Darent, between Sundridge and Westerham....The village is situated on the high road to Westerham; on the stream are paper mills. A fair is held on Holy Thursday for horses and cattle. The church is dedicated to St Martin. The living is a rectory, valued in the K.B. at œ22 6s 8d., present nett income about œ600; patron, the Archbishop of Canterbury; the Rev. William H. Mill, D.D., is the incumbent... Here is a National school. Brastead Common is 1 mile south. Brastead Place is a fine seat and park adjoining the village. Hill Park is 1 mile west." 1852 directory.

Placename Origin
Brasted = Broad place. OE brad stede.
Administrative Units
Brasted fell within the Hundred of Westerham. Its 19th century Registration District & Poor Law Union was Sevenoaks.
Probate Jurisdiction was Shoreham to 1845, PCC 1846-57.
See NWKFHS publications West Kent Sources and School Records for further information.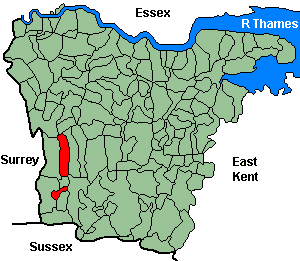 Census Publications
1851 Name Index (only) published on microfiche as part of Volume VI (Sevenoaks Registration District).

For ordering details see Census CD-ROMs on the Publication List page.
Church and Chapels (pre 1910)
Brasted, St Martin
Ancient Parish Church
A church was here in Domesday times but has little or no trace of the original building remain. The doorway is of the 14th c. and leads into the church built in 1864-65 by Alfred Waterhouse (1830-1905). Built of local sandstone the castellated tower, which is heavily buttressed, and capped by a red tile spirelet. James Anthony Sims says of the Victorian restoration of the pitched clay tiled roof and walls of the main part of the church, 'it puts one in mind of the Salvation Army, very worthy but not the sort of thing to stir the imagination'. Monuments include Judge Sir Robert Heath (1575-1649) and Avary Tipping 1933 author of 'English Homes'.
Original Registers
These date from 1557.
Transcript published by NWKFHS (Microfiche Ref. F3) See Parish Register Publications.