Blackheath
A settlement which grew up on the borders of Lewisham, Charlton and Greenwich parishes.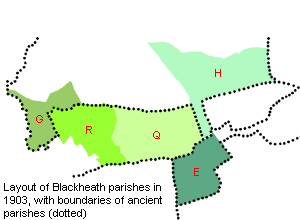 Church and Chapels (pre 1910)
Church of England cont.
Holy Trinity: Blackheath Hill. (map ref G) Church built 1839, now demolished; parish created 1849, refounded 1858 from Greenwich St Alphege. Original registers from 1868.
Church of The Ascension: Dartmouth Row. (map ref R) Built as a chapel of ease 1697, rebuilt 1750/1838; parish created 1883 from Lewisham St Mary. Original registers from 1879.
Roman Catholic
St Mary: Cresswell Park. Built 1872 as orphanage with chapel open to public; closed 1904. No information on registers
Our Lady Help of Christians: Cresswell Park. Church built 1890-1. Original registers from 1874.
Independent/Congregational
Congregational: Independents Rd, Blackheath. (1854-1940 des.). No information on registers
Congregational: Lawn Terrace, Blackheath. (1854). No information on registers
Other
Other: Morden College Chapel, Blackheath. Original registers from 1702.