Bidborough
OS Grid Reference: TQ5643
The 1841 population was 260

"Bidborough is a village and prish, 4 miles south-south-west of Tunbridge station, and 4 north-east of Tunbridge Wells, in the lateh of Aylesford, Washlingstone Hundred, and Tunbridge Union.....The church is a small ancient edifice, with a tower and 2 bells. The living is a rectory, value œ300, in the gift of John Deacon, Esq., and incumbency of the Rev. Charles Bigsby, M.A." 1852 directory.

Placename Origin
Bidborough = Bitta's tumulus. OE Bittan beorg.
Administrative Units
Bidborough fell within the Hundred of Washlingstone. Its 19th century Registration District & Poor Law Union was Tonbridge.
Probate Jurisdiction was Rochester to 1845, PCC 1846-57.
See NWKFHS publications West Kent Sources and School Records for further information.
For project purposes this parish is also covered by Tunbridge Wells FHS.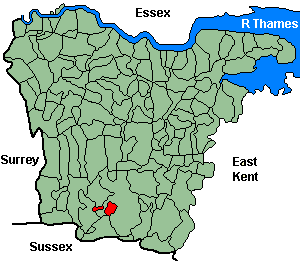 Church and Chapels (pre 1910)
St Lawrence
Ancient Parish Church
Separated from Leigh and made a separate parish in 1218. The church has been much repaired although there are still signs of the Norman church. The church is built of sandstone with a shingled spire. South aisle and chancery rebuilt in 1876-77 by Ewan Christian. Churchyard monument for Mary Countess of Darnley 1803 by Sir Richard Westmacott RA the sculptor (1777-1856).
Original Registers
These date from 1632.