Bexley
OS Grid Reference: TQ4675
The 1841 population was 3,955

"Bexley is a neat village and parish in the lathe of Sutton-at-Hone; the parish is partly in the hundred of Ruxley, and extends into that of Lessness. The village is 12 miles E. by S. from London, and 3 W. from Dartford - situated in an open and healthful part of the county. Camden, the celebrated antiquary and historian, was proprietor of this manor; he bequeathed it, for the endowment of a professorship in history, to the university of Oxford. The church, dedicated to Saint Mary, contains some ancient and curious monuments : the living is a vicarage; the Right Hon. Nicholas Vansittart, who on retiring from the chancellorship of the exchequer was created Baron Bexley, is patron. A national school, established here in 1809, for sixty boys and the same number of girls, is supported by voluntary subscription and an endowment of £8 per annum; there are also alms-houses for twelve poor persons." Pigot's Directory, 1839.

Placename Origin
Bexley = Clearing marked by a box-tree. OE byxe leah
Administrative Units
Bexley fell within the Hundred of Ruxley. Its 19th century Registration District & Poor Law Union was Dartford.
Probate Jurisdiction was Shoreham to 1845, PCC 1846-57.
Bexley included Bexleyheath, Lamorbey, and the part of Welling south of Watling St.
See NWKFHS publications West Kent Sources and School Records for further information.
For project purposes this parish is also covered by Woolwich & District FHS.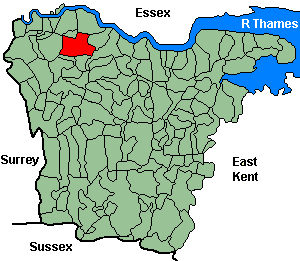 Census Publications
1851 Name Index and Page Images published on CD-Rom as part of CD8 (Dartford Registration District).
1851 Name Index (only) published on microfiche as part of Volume V (Dartford Registration District).
For ordering details see Census CD-ROMs on the Publication List page.
Church and Chapels (pre 1910)
Bexley, St Mary
(Church of England - Ancient Parish church.)

There was a church here in Domesday times. A flint church extensively restored in 1882/83, it has a shingle clad spire. Remains of a Norman doorway are incorporated into the south porch. Monuments to Sir John Champneis c1590 and Sir R. Austen 1687 among others.
Original Registers
These date from 1565.
Memorial inscriptions (1957)
Transcript published by NWKFHS (Microfiche Ref. F6) See MI Publications.
Baptist cont.
Baptist: The Broadway, Bexleyheath. Established 1827, demolished 1956. Original registers from 1827.
Independent/Congregational
Congregational: Chapel Rd, Bexleyheath. Built 1853-4, demolished 1987. No information on registers.
Congregational: Now URC, Hurst Rd. (1890). Original registers from 1890.