Beckenham
OS Grid Reference: TQ3769
The 1841 population was 1,608

"Beckenham is a village and parish, in the same hundred and lathe as Bromley, two miles west from that town, pleasantly situated near to the Croydon canal. the village contains some very neat dwelling houses, and in the neighbourhood are many handsome villas.... The church, which is dedicated to St George, is a neat structure, erected about the beginning of the 17th century; the living is a rectory, in the patronage of John Cator, Esq. The charities are and endowed school, now conducted upon the national system; three almshouses, erected in 1694, and the interest of œ1,100, bequeathed by Lady Exeter in 1837, to be alid out in the purchase of coals for the poor of the parish." Pigot's Directory, 1839.

Placename Origin
Beckenham = Beohha's settlement. OE Beohhan ham
Administrative Units
Beckenham fell within the Hundred of Bromley & Beckenham. Its 19th century Registration District & Poor Law Union was Bromley.
Probate Jurisdiction was Rochester to 1845, PCC 1846-57.
Beckenham included the settlement of Shortlands.
See NWKFHS publications West Kent Sources and School Records for further information.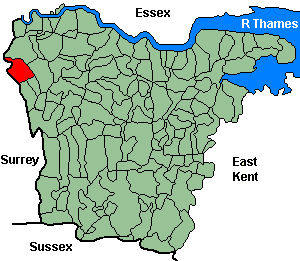 Census Publications
1851 Name Index and Page Images published on CD-Rom as part of CD7 (Bromley Registration District).
1851 Name Index (only) published on microfiche as part of Volume I (Bromley Registration District).
1891 Transcript published on CD-Rom as part of CD2 (Bromley Registration District)
For ordering details see Census CD-ROMs on the Publication List page.
Church and Chapels (pre 1910)
Beckenham, St George
Ancient Parish church.

Church built 1885-7, replacing medieval church.

Pevsner/Newman state "the churches of Beckenham are a thoroughly pedestrian lot". A medieval church was replaced in 1887 by W Gibbs Bartleet, being completed in 1903. Ragstone with buff ashlar dressings. Monuments were saved from the old church include Sir Humphrey Style 1552 armoured with a tabard. Patronage has been with the Cator family.

Original Registers
These date from 1538.
Transcript published by NWKFHS (Microfiche Ref. F55-57) See Parish Register Publications.

Memorial inscriptions
Transcript published by NWKFHS (Microfiche Ref. F58) See MI Publications.
Church of England cont.
Christchurch: Fairfield Rd. Church built 1876; parish created 1878 from Beckenham St George. Original registers from 1875.
Holy Trinity: Lennard Rd. (Formerly 'Penge Lane'). Church built 1878; parish created 1878 from Beckenham St George. Original registers from 1869.
St Barnabas: Oakhill Rd. Church built 1878/84, replacing iron church; parish created 1877 from Beckenham St George. Original registers from 1877.
Elmers End, St James: St James's Ave. Church built 1879-88; parish created 1879 from Beckenham St George. Original registers from 1888.
New Beckenham, St Paul: Brackley Rd. Church built & parish created 1872 from Beckenham St George. Original registers from 1873.
St Michael & All Angels: Birkbeck Estate (Ravenscroft Rd). Church built 1899-1906, succeeding 1877 iron church; Destroyed 1944 and rebuilt 1955-6; parish created 1907 from Beckenham St George. Original registers from 1891.
Alexandra: Mission church. No information on registers
Baptist
Baptist: Elm Rd. Built 1889. No information on registers
Independent/Congregational
Congregational: Crescent Rd. Built 1887-8. No information on registers
Wesleyan/Methodist
Wesleyan: Bromley Rd. Built 1887. No information on registers