Ashurst
OS Grid Reference: TQ5138
The 1841 population was 224


"Ashurst, or 'the wood of ashes', is a parish destitute of anything like a village, distant about four miles from Tonbridge Wells. The river Medway, which here is but a small stream, bounds the parish on the north-west. The church is a small edifice; the living is a discharged vicarage, in the patronage of Earl de la Warr." Pigot's Directory, 1839.

Placename Origin
Ashurst = Ash wooded hill. OE aesc hyrst.
Administrative Units
Ashurst fell within the Hundred of Washlingstone. Its 19th century Registration District & Poor Law Union was Tonbridge.
Probate Jurisdiction was Rochester to 1845, PCC 1846-57.
Some records are with Speldhurst.
See NWKFHS publications West Kent Sources and School Records for further information.
For project purposes this parish is also covered by Tunbridge Wells FHS.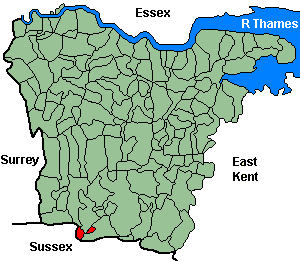 Church and Chapels (pre 1910)
St Martin of Tours
(Church of England - Ancient Parish Church)
Weatherboarded bellcote (roof frame to hang bells) with sandstone rubble walls. The south porch is dated 1621. Internally restored first in 1701 then said to have been totally restored by H.G. Curzon in 1865. But other sources give 1861 and the architect as Benjamin Ferry (1810-1880). Lord Sackville was the patron at the turn of the century.
Original Registers
These date from 1692.