Ash-next-Ridley
OS Grid Reference: TQ6064
The 1841 population was 663

"Ashe (or Ash) near Dartford is a very beautiful village, 8½ miles from Gravesend, in Dartford Union and Hundred, lathe of Sutton, with an exceedingly handsome church. There is a National Free School, and also a Baptist Meeting house." 1852 directory.

Placename Origin
Ash = Ash tree. OE aesc.
Administrative Units
Ash-next-Ridley fell within the Hundred of Axtane. Its 19th century Registration District & Poor Law Union was Dartford.
Probate Jurisdiction was Rochester.
See NWKFHS publications West Kent Sources and School Records for further information.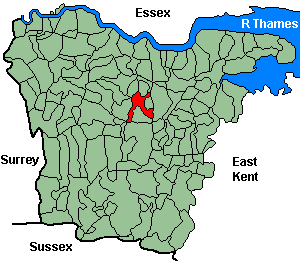 Census Publications
1851 Name Index and Page Images published on CD-Rom as part of CD8 (Dartford Registration District).
1851 Name Index (only) published on microfiche as part of Volume V (Dartford Registration District).
1891 Transcript published on CD-Rom as part of CD3 (Dartford Registration District).
For ordering details see Census CD-ROMs on the Publication List page.
Church and Chapels (pre 1910)
St Peter & St Paul
Ancient Parish Church

There was a church mentioned here in the Domesday. The font is Norman and the nave is 13th c., with the tower and roof of the 15th c. The walls are flint with ragstone and sandstone dressing. Some brick to the SE turret of the tower which is castellated. Restored by Sir T. G. Jackson in 1901-03. The rector Rev. S Atwood gave a paten and altar piece in 1713. Notable monuments include that to Reginald de Ashe.
Original Registers
These date from 1560.
Images published by NWKFHS (CD-Rom Ref. OR26).
Baptist
Baptist: Ebenezer Chapel, later Independent. No information on registers