Quarterly & Back Journals
Since 1978 the Society has published a quarterly journal 'North West Kent Family History' (SSN 0263-6506), which is mailed to all members. It generally contains some 40 to 50 pages of articles on family history in north west Kent and elsewhere, news items, and surnames being researched by new members. It has won the Elizabeth Simpson award for the best family history society journal on a number of occasions.
The first two volumes (1978-82) were published at a size of 10" x 8", but this was altered to A5 format in 1983. At the same time the number of issues per volume was increased from eight (covering two years) to twelve (three years).
Join the Society and contribute to the Journal
Journal Editor Pauline Heathcote is always looking for new material for publication from members - articles, letters, snippets & photos.
Write an article about your research including your questions. If you include your email address, members can reply to you. Each issue of The Journal is available on line for the foreseeable future which has, in the past, lead to members contacting authors several years later.
Articles can be from 100-1000 words and the editor is very happy to help you. Don't forget to add an image if you have a relevant family photo.
She can be reached at editor@nwkfhs.org.uk.
In 2016 Tunbridge Wells Family History Society was incorporated into North West Kent Family History Society and passed on their assets. These assets included the archive of their Journals. The Journals have been scanned and are availableon this website as PDF files. The Journals have been indexed to make access easier and is available to allow the articles' volume and page numbers to be found and allow the use of PDF files to be searched and the relative pages downloaded.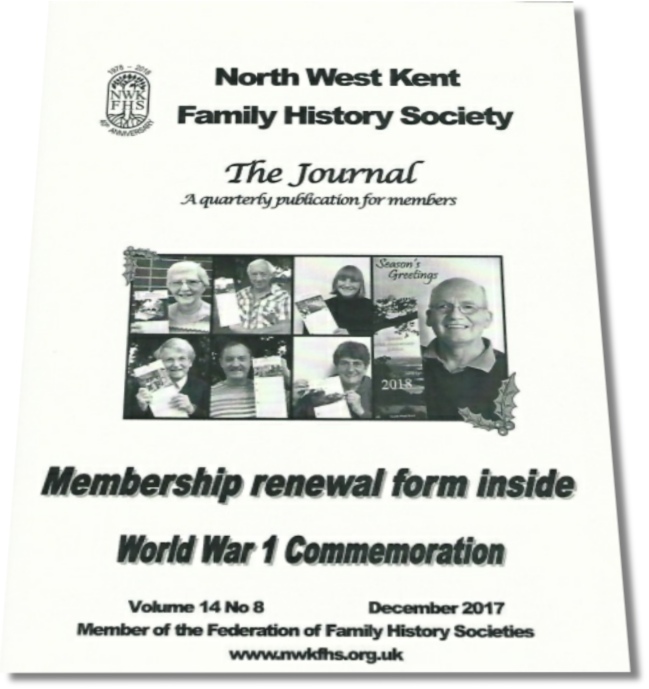 See the 'Flipping Book' version of the first Journal in 1978 by 'clicking' button above.
Members can see NWKFHS and TWFHS Journals in their entirety by 'clicking' on appropriate buttons below.
If not previously logged in you will be prompted for your Username and Password credentials before access is allowed.